1996 DCM Impala
(Dark Cherry Metallic)
Jon Moss Signature Series
Tri-9 Chevy Impala SS

SOLD!

Final walk around before it was loaded on a transport truck.
Mileage 102900 (April 2016) / Build Date Sept 15, 1995
Purchased October 1996, second owner.
The car is basically stock mechanically with many modifications to enhance its appearance and establish individuality. The engine was replaced due to a faulty crank shaft (it snapped in half and destroyed the original engine) in November of 1999 at 45,000 miles. The car is in great mechanical shape but the clear-coat paint is failing and, although they have plenty of tread, the tires are old. The car has been my daily driver for the past 4 months, before that it was a one day a week princess. I am only parting with it because my new job requires a lot of travel, I need something more gas efficient (re: Honda or Acura). Photos taken April 9, 2016.
Standard Options:
350 LT1 Engine with 4 speed automatic transmission. power windows, power locks and power front seats, AM/FM Cassette radio.
Modifications include:
Exterior:
| | |
| --- | --- |
| Suncoast Funcitional Ram Air Hood | Dodge syle hood pins for extra stability at high speeds |
| Factory script and side moldings removed | Tinted windows, carbon tint |
| Impala Cross Flags are mounted on the front 1/4 panel | 9C1 Body Bushings installed for increased stability |
| HID (white) Head Lights | Clear turning light lenses |
| Upgraded Lower Control Arms | Fuel bib was installed to protect the paint from spillage when filling up |
| Tail lights have been upgraded, output was increased with upgraded lamps and bucket enhancements | ATS sequential turn-signal kit was installed which makes the rear lights flash sequentially 1-2-3 when the brakes are applied, turn-signals used or emergency flashers turned on |
| Wiper blades have been upgraded to the aerodynamic 9C1 version (plus spare blades for future replacemets) | A template has been installed over the "cyclops" center rear brake light so that the word SOFASST is displayed when the brakes are applied |
| Rear brakes have been upgraded to the iRotors drilled and slotted rotors & pads | Front brakes recently replaced with standard rotors and pads after the last set overheated due to Master Cylinder failure. New Master Cylinder |
| Stainless steel braided brake lines | Re-painted in 2007 (clearcoat failing) |
(all references to 9C1 are special parts for the police pursuit version of the Caprice)
Interior:
| | |
| --- | --- |
| Custom black and gray ultraleather reupholstered seats, front and rear, with embroidered Impala logo | Triple A-Pillar gauge pod with Voltage, Transmission Temp and Fuel Pressure gauges |
| Upgraded carpeting | Interior lamps replaced with LED's. |
| iSimple iPhone Gateway (play/charge iPhone/iPod through factory radio via direct connect cable) | Jon A. Moss Signature Series Plate over the radio (signature is on the trunk lid) |
| Carpeted dash mat and console cover | Spare floor mats |
| Aluminum door pulls | Billet aluminum seat belt guide cap w/ engraved impala logo |
| Aluminum Defroster Vent Cover with engraved Impala Cross Flags | Switched radio antenna (can leave down when playing iPod) |
| Alternative Lock vehicle disabling system | Automate Car Alarm |
Engine/Engine Bay:
| | |
| --- | --- |
| Ram Air box with K&N filter | Granitelli oversized High Performance MAF |
| Throttle body Air Foil | CNC raised Impala logo waterpump cover |
| Billet Aluminum Impala SS injector covers | Painted windshield washer and overflow reservoirs |
| Throttle body bypass mod | Air pump delete mod |
| Switched under-hood LED lights | |
Trunk:
| | |
| --- | --- |
| Jon A. Moss signature | Dual trunk lights installed, switch controlled |
| Foam inserts on the sides to prevent dings when carrying anything in the trunk | |
Dual Exhaust: DynoMax UltraFlows, 2 1/4" pipes from the cats back.
Security: Automate alarm system, etched side windows and Alternative Lock system.
Extras: Car cover, headlight covers painted body color.
Faults:
Failing clear coat, minor scratches and three small door dings
Drivers side mirror housing broke loose, spare, green, mirror assembly comes with the car.
(repaint and replace with the paint fix)
Recent occurance, March 30, 2016. I noticed a water leak stain on the headliner. Car was inspected by a body shop who concluded the adhesive holding the windshield on must have developed a crack. Caulk applied to plug crack.
Older Pics (2012):
Even Older Pics (1990's):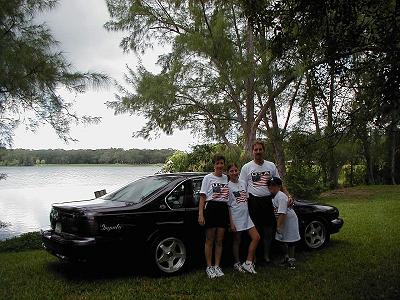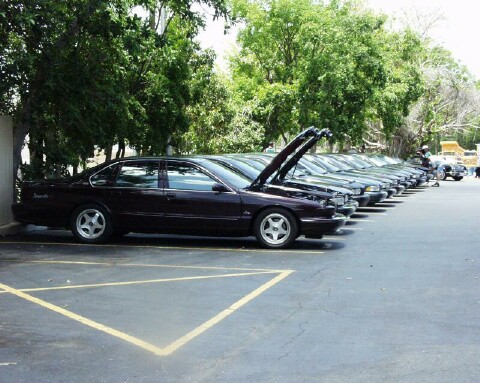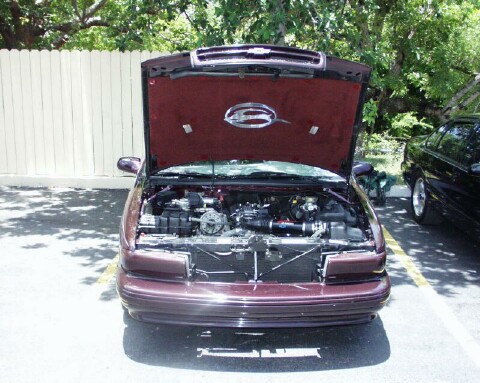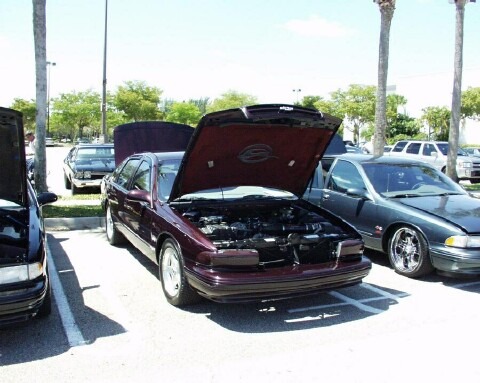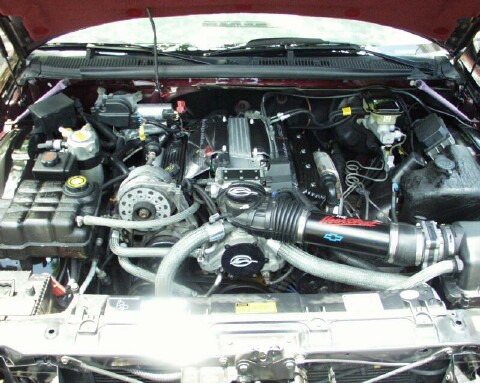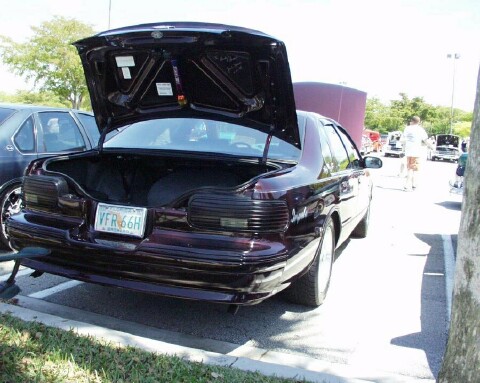 ---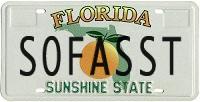 Owning an Impala SS is not just about driving a present and future classic, it is about becoming part of a local Impala community. SoFASST (South Florida Area Super Sport Team) My car is featured under the Members Page.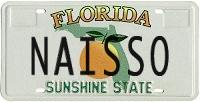 The original Impala Club, now it is an online store where you can find almost anything available for the '94 - '96 Impala.